Directory of computer-aided Drug Design tools
Click2Drug contains a comprehensive list of computer-aided drug design (CADD) software, databases and web services. These tools are classified according to their application field, trying to cover the whole drug design pipeline. If you think that an interesting tool is missing in this list, please contact us
Updated on 8/24/2016. Currently
721
links.
Show all links
/
Hide all links
.
Click on the following picture to select tools related to a given activity: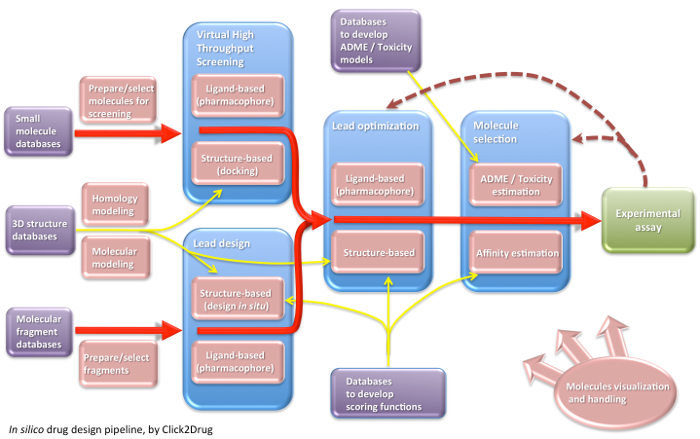 Show all links
Hide all links
Chemical structure representations
3D viewers
VEGA ZZ. Visualization application and molecular modeling toolkit (Molecular mechanics and dynamics, structure-based screening). Free for non-profit academic uses. Provided by the Drug Design Laboratory of the University of Milano.

Homology Modeling
Web services and databases
BSR. Binding Site Refinement employs a new template-based method for the local refinement of ligand-binding regions in protein models using closely as well as distantly related templates identified by threading. This web service is freely available to all academic users and not-for-profit institutions. Provided by the Center for the Study of Systems Biology, Atlanta.

Binding site prediction
Software
Databases
Web services
Docking
Screening
Ligand design
Software
MOE. Suite of medicinal chemistry tools like Ligand-Receptor Docking, Protein/Ligand Interaction Diagrams, Contact Statistics, Electrostatic, & Interaction Maps, LigX (Ligand Optimization in Pocket), Ligand & Structure-Based Scaffold Replacement, Multiple Molecule Flexible Alignment, Conformation Generation, Analysis, & Clustering, Active Site Detection & Visualization, Multi-Fragment Search, Ligand & Structure-Based Query Editor, High-Throughput Conformation Generation, Pharmacophore Search. Distributed by Chemical Computing Group.

Web services