Directory of computer-aided Drug Design tools
Click2Drug contains a comprehensive list of computer-aided drug design (CADD) software, databases and web services. These tools are classified according to their application field, trying to cover the whole drug design pipeline. If you think that an interesting tool is missing in this list, please contact us
Updated on 8/24/2016. Currently
721
links.
Show all links
/
Hide all links
.
Click on the following picture to select tools related to a given activity: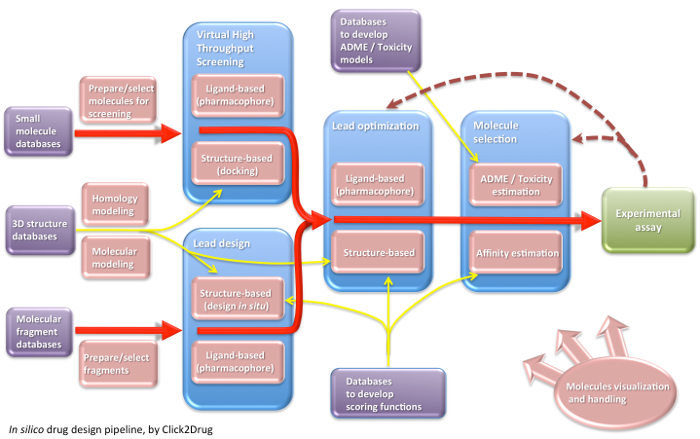 Show all links
Hide all links
Databases
Chemical databases
Databases handling
JChem for Excel. Integrates structure handling and visualizing capabilities within a Microsoft Excel environment. Structures are fully supported within spreadsheets and be can viewed, edited, searched, resized, ordered, managed. Provided by ChemAxon.

Screening
Ligand design
Web services
eDesign. Web server providing a de novo drug design engine to create new molecules either from scratch (lead-hopping) or based on a user-defined scaffold on which R-groups have to be optimized. Alternatively, the same tool can be used to screen a library of molecules. The structure-based function is based on the program PLANTS. Maintained by the Institut de Pharmacologie Moléculaire et Cellulaire, France.