Directory of computer-aided Drug Design tools
Click2Drug contains a comprehensive list of computer-aided drug design (CADD) software, databases and web services. These tools are classified according to their application field, trying to cover the whole drug design pipeline. If you think that an interesting tool is missing in this list, please contact us
Updated on 4/5/2018. Currently
807
links.
Show all links
/
Hide all links
.
Click on the following picture to select tools related to a given activity: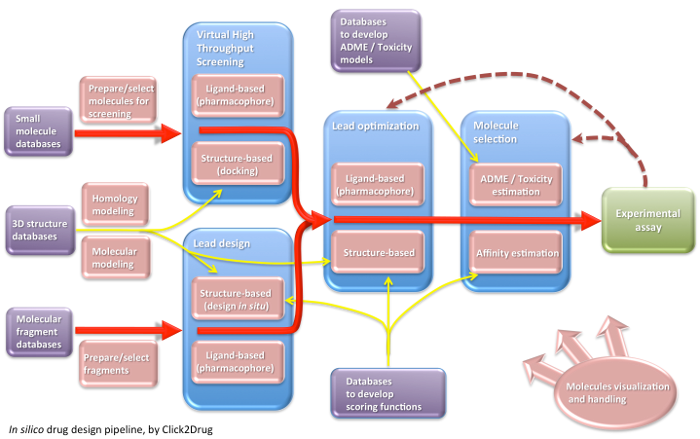 Show all links
Hide all links
Binding free energy estimation
Software
Hyde. Entirely new approach to assess binding affinities and contributions to binding of a complex, with a visual feedback at atomic detail. Hyde shows which regions of a complex contribute favorably and infavorably to the binding. Allows modifying a molecule interactively to optimize a complex and trigger new lead optimization ideas. Hyde is entirely based on physics-principles and has not been trained or calibrated on experimental data. Distributed by BioSolveIT.

X-score. Program for computing the binding affinities of the given ligand molecules to their target protein. X-Score is released to the public for free.

NNScore. Python script for computing binding free energies from PDBQT files of the receptor and the ligand, using a neural network approach. Free and open source. Developed by the McCammon Lab, UCSD.

Web services
Databases
CLiBE. Database containing information about Computed Ligand-Receptor Interaction Energy and other attributes such as energy components; ligand classification, functions and properties. Ligand structure is also included. Provided by the BioInformatics and Drug Design group of the National University of Singapore.

QSAR
Software
Databases
Web services