Directory of computer-aided Drug Design tools
Click2Drug contains a comprehensive list of computer-aided drug design (CADD) software, databases and web services. These tools are classified according to their application field, trying to cover the whole drug design pipeline. If you think that an interesting tool is missing in this list, please contact us
Updated on 4/5/2018. Currently
807
links.
Show all links
/
Hide all links
.
Click on the following picture to select tools related to a given activity: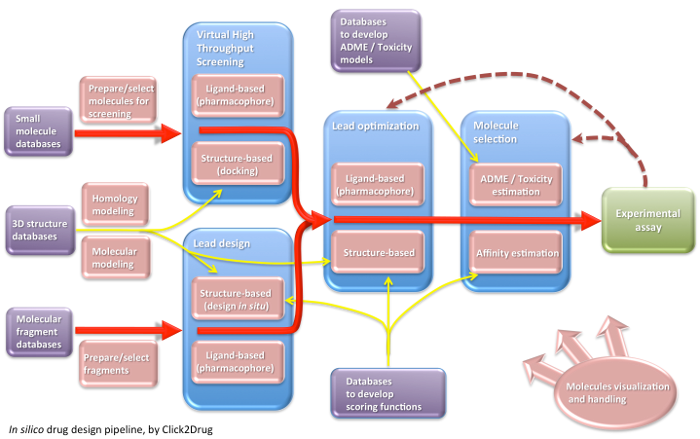 Show all links
Hide all links
Databases
Chemical structure representations
2D drawing
2D drawing online
3D viewers
File format Converters
Molecular Modeling
Software
iHyperChem Free Version. Free Version of iHyperChem for iPad. Provided by HyperChem.

iSpartan. iSpartan is a versatile app for molecular modeling on the iPad, iPhone, and iPod Touch. Molecules are created by two-dimensional sketching and converted into a three-dimensional structure. Low-energy conformations can then be calculated and their geometries be queried. A database of 5,000 molecules (a subset of the Spartan Spectra and Properties Database, SSPD) can furthermore be accessed to obtain NMR and IR spectra, molecular orbitals, electrostatic potential maps, and other atomic and molecular properties. The database can be searched for substructures. Developed by Wavefunction, Inc.

Homology Modeling
Web services and databases
iProtein. iPad application providing access to the Eidogen-Sertanty's Target Informatics Platform (TIP).

ADME Toxicity
Software
SimCYP for iPhone.. The SimCYP Population-based ADME Simulator is a platform for the prediction of drug-drug interactions and pharmacokinetic outcomes in clinical populations. For iPhone. Distributed by SimCYP.